Villeneuvette, the « Sleeping Beauty » has a story to tell…
When you get to Clermont l'Hérault, the beautiful avenue of ancient plane trees will take you by surprise and make you want to walk down it to discover what's at the end.
The manufactory was built on the edge of the river Dourbie, a tributary of the river Hérault which supplied, with other water sources, the ponds and water-wheels of the filling mills… A guided tour will help you understand its exceptional hydraulic network system and the ingenuity of how it was invented and built.
The work activity ended in the 1970s after a decline …
Here you are in an ancient sheet-making Royal Manufactory. The production was destined for exportation to the Near East, and then later on the sheets were used for the army.
Go through the main entrance gate to start your walk it will be your first clue, "Honour your Work".
The pretty, shaded Louis XIV square is enchanting. In the centre the water spraying from the 18th century fountain-trough sets the tone.
Water is the most important element in the place, without which the manufactory would not have been possible.
After Easter, an organic food market every Tuesday is a meeting place for gourmet food seekers with farm producers of vegetables, honey, olive oil and market garden products in season… let yourself be tempted !
The Assumption of the Virgin churche is simple like most protestant churches. Mural paintings by an important religious painter ien the Languedoc J.Pauthe, are on show for you to admire.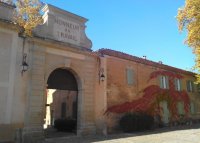 Continue to the west; take the stone-pebbled road along the houses, workshops and offices of the manufactory. Slightly lower down, the Mayor's office and a charming hotel-restaurant occupy the area closer to the river Dourbie.
Towards the north, there is a surprising neighbourhood of pretty but modest working men's houses which is a witness to the communal lifestyle orgnized by the Maistre family, proprietors of the manufactory in the 19th century. Today these renovated houses are much sought after and often occupied by artists like the violin-maker Gilles Nicolas.
Further on, more than almost 4 acres of vegetable gardens or orchards growing near the water fountain "Grand Guillaume" allowed the workers to have their own little piece of land. Even today in our day, the inhabitants have the use of this privilege. The very beautiful factory chimney is still in existence, neighbouring the ruined workshops. The big water reservoir which was used to supply the rammers is today a huge wasteland, a kingdom for wild plants, amphibians and other "beasts".
If you like walking, a beautiful trek of an hour will take you towards the "Pont de l'Amour" (lovers' bridge) and then to discover the hill and the vestiges of the hydraulic network.
For more history about Villeneuvette consult the heritage booklet to discover more.