The Clermontais, which is in the middle of the Hérault, has a rich history that spans a thousand years.
Dating back to prehistoric times, when humans exploited the richness of the land in several different places. Their existence in the copper mines of Cabrières (the most ancient in Europe) has been proven; or to cite another example, Mourèze in the Park Courtinals.
After which the Greeks and the Romans developed and marked-out in the region numerous routes with winemaking domains, the vestiges of which are still in existence, notably in Aspiran.
During the Middle Ages the first villages to be built were around the castles and fortifications such as in Clermont l'Hérault, the main fortified town, fiefdom of the Guilhem family.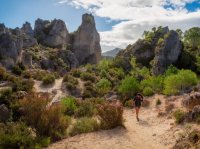 For economical reasons, right from the start of the IVth century, the sheet-making industry was developed on the banks of the Rhonel in Clermont l'Hérault and continued to function until the beginning of the XXth century. The Royal sheet-making Factory of Villeneuvette, founded in the XVIIth century, contributed to the success of the textile fabrication of the Clermontais, which at the time was exported as far as the Middle East.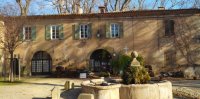 The Clermontais is also known for its agricultural land, especially the vineyards, producing some of the most highly reputed wines, which in the last century was also renowned for its French table grapes, mentioned right from the XIIth century as one of the most important in the region.
Today the Clermontais, rich with its history, has no longer an industrial activity. Wine-making, commerce and tourist activity have taken over to become the economic drive in the territory.
For more informations about towns and curiosity in our destination, consult our heritage leaflet :