Lodève,IS AN ancient capital of textile production
The town has retained many vestiges of its ancient past which you will discover when you visit it.
Saint-Fulcran, with its impressive gothic cathedral and adjacent Episcopalian palace will give you an idea of the importance of the Lodève in the 17th and 18th centuries. A bit further away in the buildings of the old hospital of Saint-Jean, is an exceptional apothecary. Visits are conducted solely on guided tours.
The museum Fleury recently opened its doors after several years of renovation; you will find the pre-history and geology rooms of the place in newly arranged settings. One of the rooms is dedicated to the local artist Paul DARDE. At every season, the museum shows a new temporary exhibition which is of great quality.
Don't leave without having visited the unique National Manufactory of carpets called the Savonnerie where you can admire woven carpets of unique and exceptional skill that go to embassies and prestigious places of the Republic. Guided tours on appointment only through the Tourist Office.
For more information on what to see and do in the Lodévois, contact the Tourist Office of the Lodévois and Larzac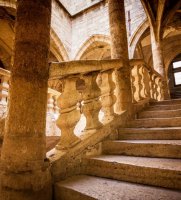 Pézenas is a really pretty town with a much appreciated architectural heritage.
The historical part of the town is entirely pedestrian with animated little streets, so it's very easy to walk around. Some of the big town houses of the 17th and 18th centuries open their courtyards for visits throughout the year or on specific cultural or theatrical occasions.
Choose a guided tour organized by the Tourist Office to make the most of discovering the treasures of the town. You will hear the history of Molière, illustrious dramatic author and comedian, and Boby Lapointe a well-known singer/songwriter who was a native of Pezenas.
Pézenas is also very popular for its handicrafts, with many stalls and little shops to delight those who are looking for beautiful things! Jewellers, potters, weavers, engravers, gilders, cabinet makers … take your choice!
If you are good at rummaging, the antique quarter is just a step away. You can find real bargains!
Don't leave without having tasted the specialties of the place: petit pâté de Pezenas, and the berlingot.
For more information on what to see and do in the Piscénois, contact the Tourist Office of the Cap d'Agde.