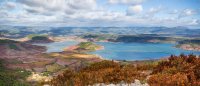 And what if you decided to reach for the sky to admire the landscape surrounding you? The Clermontais, is a paradise for hikers and nature lovers of big open spaces. The Mont Liausson and the Pic du Vissou are in the same vicinity even though they have to be climbed differently.
To climb the Mont Liausson, the most classic pathway is the one that leaves the village of the same name which is well-marked and will take you first to the mountain pass of the Portes, and then onto the ridge where there is a stunning 360° view. To the north there is the view over the lake Salagou with its surrounding ruffe; to the south, is the dolomitic Cirque of Mourèze. A magnifique view !
In clear weather, it's possible to catch a glimpse of the Pyrénées, the Mediterranean Sea, the Larzac and the east of the Pic Saint Loup or even the Mont Ventoux. Just a small suggestion: take your time and enjoy the show !
To get to the Pic du Vissou take the tourist wine trail starting at the cooperative of the wine-making village of Cabrières. It continues through the vineyards, with a stunning view over the Pic.
After a hearty climb comes the reward! Here also, the spectacular surroundings will take your breath away. You will surely come across some of the wild life familiar in the area or even some sensation-seeking aerial climbers.
There is also a road that will take you quite simply to the summit by car. The last few steps however will have to be on foot!
Let's go !