Let's go and meet some of our local producers, sweet or savoUry?
How is it possible to not know about olives? Olive oil and its olive by-products are tapenades, crushed olive spreads or olivades. Here we are in the Clermontais right in the kingdom of the olive-growing culture. Our olive queens are the "lucques", the "olivières", the "clermontaises"… You can taste them in the mills or the markets and in shops in the area.
Just for you! An olive tapenade recipe concocted by Mathilde Bavoillot who writes a blog in the Languedoc: Sucré Salé!
200 grs of Lucques olives stoned
3 or 4 filleted anchovies
50 grs capers
50 grs ground almonds
Olive oil and milled pepper

Mix all ingredients and make your tapenade more or less fine according to your taste!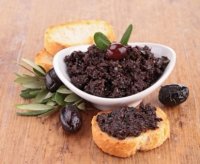 You should also try some of the goat's cheeses, meat cuts from the local delicatessens and the seasonal fruit and vegetables that come straight from the producers. To accompany these delicacies, don't forget some good bread to finish off a gourmet snack, with a little honey from the garrigue, thyme or maybe some refined chocolate … Not to forget a visit to one of the many wine domains where you will have help in choosing a good bottle of wine to go with your chosen goods.
Good surprises are waiting for you in some of the farm shops. The Clermontais producers are now in groups so as to promote their seasonal produce and not just …
Make the most of it!